PROEYE SEARCH SYSTEM
PROEYE SEARCH SYSTEM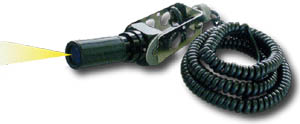 PROEYE Multi-purpose Search System has been developed and designed with input from professional search and rescue teames.
PROEYE Multi-Purpose Search System allows the rescuer to search for victims trapped in confined spaces,collapsed structures and objects dropped into water.
The effectiveness of the PROEYE Multi-purpose Search System has been proven in the *KOBE's Great Earthquake on January 17th 1995,TURKEY's Earthquake on August 17 1999 and other disasters or incidents.
Ruggedly designed PROEYE PE-303 and PE-707 Camera Head have unique feature. In order to operate 50m underwater all Camera Heads are professionally tested in our factory prior to being shipped. PE-707 Camera Head has 270`remote control articulation which allows rescue personnel to control the Camera Head at its most demanding angle.